Ice Skating under-the-Gardiner returns for Year 5!
Toronto's favourite cold-season hotspot, The Bentway, opens for skating on December 17
TORONTO, Dec. 5, 2022 – The Bentway welcomes back local neighbours and Toronto fun-seekers for its fifth year of winter programming, launching Saturday, December 17, 2022. Skaters are invited to chill out and cozy up along a 220-metre figure-eight skate trail, located under the Gardiner Expressway.
Alongside skating, perennial festive favourites return, including free skate rental nights, free hot chocolate nights, beginner skate lessons, and The Bentway's Polar Bear Skate.
Adding some extra warmth this year, The Bentway celebrates the experiences of newcomers encountering Toronto's cold season for the first time. Featured "First Winter" programming includes the glowing new art installation, Beacons, by Shellie Zhang; performance; music; storytelling; and community care initiatives.
"Many Torontonians have fond memories of winter in the city – lacing up our skates; holding mittens under a magical snowfall; a friendly neighbour helping dig out our car…" notes Alex Rand, Manager of Programming at The Bentway. "For newcomers to Canada, winters will include a series of 'firsts', with new memories to be made and treasured. This season we're exploring how experiences of winter can connect all of us, our stories, and our traditions."
Fulsome details about all of The Bentway's winter programming found below.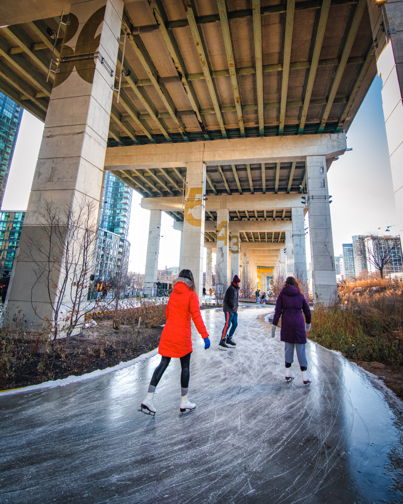 Winter Skating
Over the holidays (December 17 to January 8)
​Skating will be open every day from 12pm-9pm, including skate rentals, skate sharpening, and a hot chocolate bar.
After the holidays (January 9 to February 20)
​Skating will be open weekends 12pm-9pm; weekdays 5pm-9pm; holidays and TDSB Elementary P.A. days 12pm-9pm – all including skate rentals and skate sharpening. During this period, the hot chocolate bar will be open Fridays to Mondays only.
Also from January 9 to February 20, visitors can enjoy special treats and offerings:
Billy Bishop Free Rental Fridays – Free skate rentals are available every Friday from 5pm-9pm, courtesy of Billy Bishop Toronto City Airport [starting January 13].
Free Hot Chocolate Mondays – Mondays are date night at The Bentway! Come enjoy your free hot chocolate onsite and explore the neighbourhood, every Monday from 5pm-9pm, courtesy of CityPlace Fort York BIA [starting January 9].
Free Beginner Skate Lessons – Expert instructors will help build essential skills for novice skaters every Tuesday: 5:00pm-6:00pm for children aged 6 to 12, and 6:00pm-7:00pm for those aged over 12 [starting January 10]. Registration for Beginner Skate Lessons opens December 20 at thebentway.ca/skatelessons
The Bentway's Polar Bear Skate returns on December 31 at 12pm! Both a clothing drive and a wild way to close out the year, brave Torontonians are invited to strip down to their skivvies and skate the trail for a good cause. Donations of warm winter clothing will be collected onsite by New Circles Community Services and distributed to newcomer and refugee families experiencing winter in Toronto for the first time. Registration is now open at thebentway.ca/polarbearskate.
Special "First Winter" Programming
Special programming during The Bentway's 2022/23 winter season celebrates Toronto's multiculturalism and explores what it is to experience winter in the city for the first time.
Anchoring the season is Beacons by artist Shellie Zhang (b. 1991; Beijing, China), which consists of five vibrant sculptures that light up the Gardiner's concrete columns. Beacons is inspired by Zhang's conversations with newcomers as well as her own experience arriving in Canada, and how efforts of collectives and friendly strangers helped brighten what otherwise felt like an endless, gloomy period of cold. Commissioned by The Bentway with support from TD Bank Group (TD), Beacons glows with the dusk and dawn-time colours of Toronto's skyline in winter, a reminder of the passage of time, and the warmth we draw from our community during these dark, frozen months.
"At TD, we believe amplifying the diverse stories and narratives that make up our communities helps to foster a sense of belonging," said Alicia Rose, Associate Vice President, Social Impact (Canada), TD Bank Group. "That's why, through our corporate citizenship platform, the TD Ready Commitment, we're delighted to support Shellie Zhang's Beacons at The Bentway, a unique and inclusive artistic experience that helps bring people together."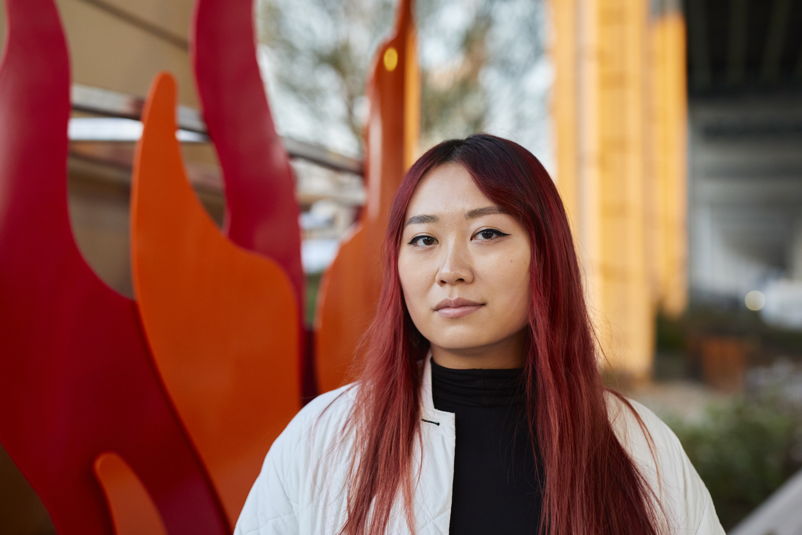 The "First Winter" series includes a suite of public programs, supported by Billy Bishop Toronto City Airport:
First Winter Memories: The Bentway invites newcomer residents, partners, and artists to express memories of their early winter experiences in Toronto – which will be shared at The Bentway Skate Trail and thebentway.cathroughout the season.
Lunar New Year festivities: On January 22, celebrate Lunar New Year with an array of dancers, vendors, and performers from the East Asian Diaspora, including Lion Dancers from the Hong Luck Kung Fu Club.
Midwinter Concert: On February 9, The Bentway Studio at Canoe Landing comes alive to showcase the talents and stories of the artistic newcomer community in concert, co-presented with Small World Music.
Family Day celebrations: The winter season closes out on February 20 with a free, all-ages, musical and multicultural skate party for Family Day. Details to-be-announced.
The Bentway is also working with newcomer community groups to connect their clients with free programming this winter:
Newcomer Skate Lessons: On select nights, newcomer community groups will welcome their members to The Bentway to take to the ice for the first time, guided by expert instructors.
Indigenous Knowledge-sharing: A creative workshop guided by the Talking Treaties Collective and co-hosted by Fort York National Historic Siteconnects Toronto's original Peoples with its newest residents.
Creative Storytelling: A workshop led by the Department of Imaginary Affairsinvites newcomers to share their own First Winter stories through a variety of art-based storytelling methods such as collage, drawing, writing, and embroidery.
Newcomer Kitchen: In a jubilant culmination of the season, partners and participants in the First Winter program will join a communal dinner hosted by The Bentway and Newcomer Kitchen, a non-profit and social enterprise led by Syrian refugee women.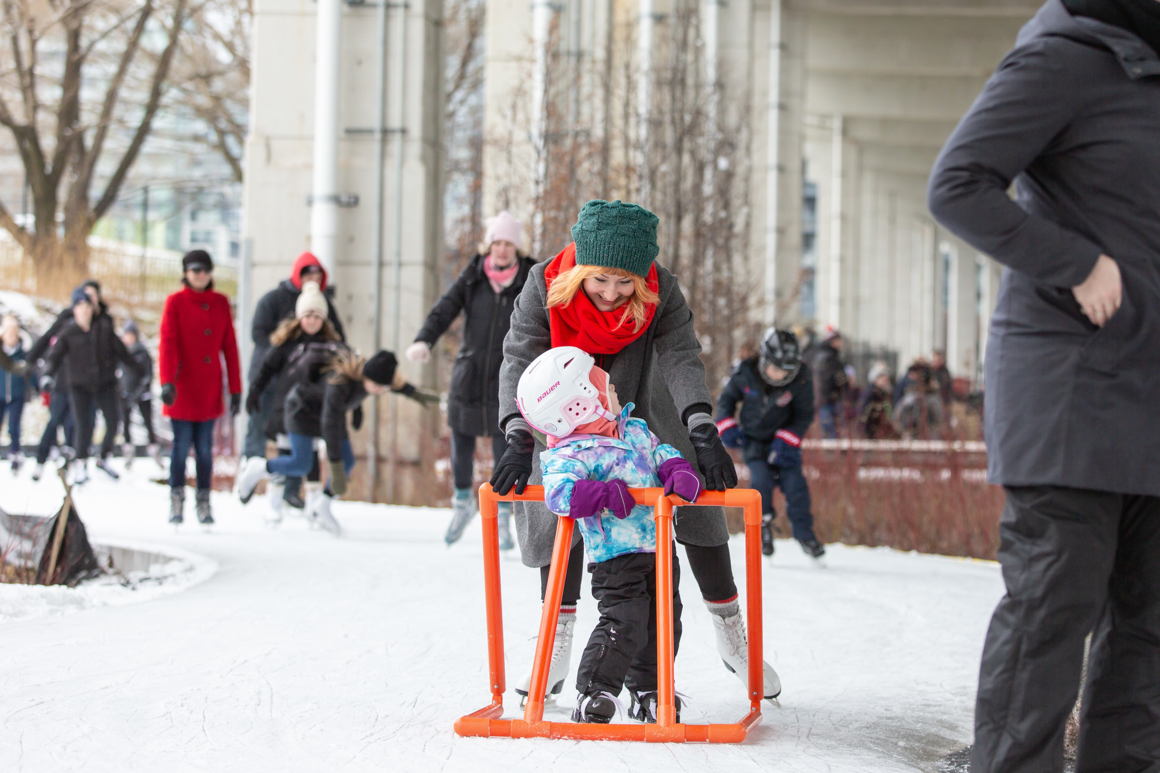 Other articles from totimes.ca – otttimes.ca – mtltimes.ca